Portable Power Station 1500W
PAC1000
12 Month Warranty & Fast Shipping Guaranteed
Bundle your order and save!
Power Station + Two 60W Solar Panels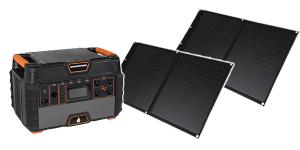 BATTERY CAPACITY: 982.8Wh (91Ah / 10.8V) Power a 120W full size fridge for 8-9 hours, 300W blender for 2.6 hours, 900W electric grill for 50 minutes, 1500W air fryer for 30 minutes, and more!

POWERFUL OUTPUT: (4) 120V AC ports; 1500W rated power & 3000W surge power from Pure-Sine Wave inverter.

FAST CHARGE DEVICES: (6) USB ports - (3) Type-A and (3) Type-C PD (Regulated)

CAR PORT: 12V, 10A Max. Run a 50W air pump for 16 hours

RECHARGING: Mobile & Fast AC charger (3 Hours) included, DC carport charger (12 Hours) included, or X2 Solar Panels (7-8 Hours to 80%) sold separately. 8mm & APP port input.

DISPLAY: Time until empty/full, battery information, input & output data.

AIR FILTRATION: Replaceable air filter for cooling intake

WEIGHT: 43.7lbs (19.8kg)

SOLAR CHARGING: MPPT Solar charging controller; X2 Blackfire 60W Solar Panels via APP port recharge in 7.5hrs to 80%

WARRANTY: 12 Months
8mm Input:
13-30V DC, 10A, 200W maximum
AC Output:
120V each outlet, 1500W shared / 3000W peak
APP Port Input:
13-30V DC, 30A maximum, 400W maximum
Application:
Powering Devices & Appliances
Capacity:
982.8Wh (91Ah / 10.8V)
Cell Chemistry:
Lithium-Ion
Charge Time (550W Input Max):
Full charge 3 hours
Charge Time (Supplied Car Charger Adapter):
Full charge 12 hours
Charging Temp:
32° to 104°F (0° to 40°C)
Charging Time (Supplied AC Adapter):
Full charge 9 to 12 hours
Charging Time (Supplied Mobile and Fast AC Adapter):
Mobile AC = Full charge 7.5 hours; Fast Charger = 3 hours
DC Output:
12V, 10A maximum
Dimensions:
15.8'' × 10.8'' × 10.4'' (40.1 × 27.4 × 26.4 cm)
Dual Input:
8mm Port, 150W maximum, APP® Port, 400W maximum
Life Expectancy:
500 cycles to 80% capacity typical (depending on use and care)
Operating / Storage Maximum Altitude:
6562' (2000 m)
Operating / Storage Maximum Humidity::
75% non-condensing
Operating Temp:
14° to 104°F (-10° to 40°C)
Shelf Life:
Charge every 3 months (fully charge before storage)
Special Features:
Pure Sine Wave Inverter, AC Output, 12V output, USB A, USB C, USB C PD, Replaceable filter
Standards:
FCC, UN38.3, DOE/CEC, NRCAN
Storage Temp:
-4° to 113°F (-20° to 45°C)
Type:
Portable Power Station
USB Output:
(total output 210W) USB-A: 3 × 12W (5V/2.4A), USB-C PD: 3 × 60W (20V/3A, 15V/3A, 12V/3A, 9V/3A, 5V/3A)
California residents:

WARNING: Cancer and reproductive harm - See
www.P65Warnings.ca.gov
for more information.
Enter product(s) total wattage or amps drawn for time estimate
Max 1500W, both AC ports combined
---