Customer Testimonials
Amazing product. Easily the most efficient power supply pound for pound. Digital readings make it super easy to gauge power conservation. And it recharges faster than anything I've seen. All within a super compact stackable cube.

Keep this one for lighting the inside of my tent and it does a great job. The diffused lense was a nice touch so we are not blinding each other out when we dont need to.

Great heavy duty construction. This tool is meant for serious work! They even included a belt holster.
Klein Tools Outdoor Brand
Klein Tools Outdoor Brand
Blackfire is an outdoor gear brand consisting of products created by a group of product development wizards at Klein Tools. This specialized team has spent as much time in the great outdoors as they do on the jobsite to develop the addiction for outdoor-related products and tools.
Concerned with the lack of quality with current outdoor products on the market, our team looked toward the strengths of their own jobsite accessories and brought them along for the journey. We quickly realized the advantages of our durable and reliable gear, as we are very tough when it comes to using them in the outdoor elements.
We knew the products could withstand the rigors of the jobsite, but recognized that they needed to be adapted to the needs of the outdoorsmen vs the tradesmen. Thus, one dark night, while sitting around the campfire, the idea behind the brand was created. That idea was the essence of the Blackfire product line!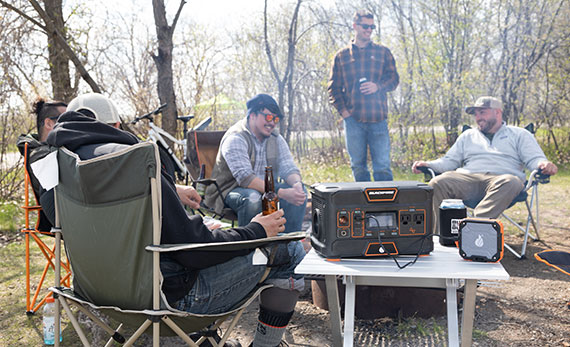 New Rechargeable Flashlights

Blackfire Rechargeable Flashlights offer a wide variety of versatility throughout our lineup. From pocket-sized to lantern functionality, and even 1000 lumen boost. Choose which light is right for you based on your situation. All of our lights are waterproof or weatherproof giving you peace of mind in the elements of the outdoors.

Explore the benefits and see which flashlight is right for you!

Learn About Portable Power

When you are out camping, hiking, or road-tripping, it will always pay to be prepared. What does this mean for most people? In today's digital age, this means having a good amount of energy in order to properly charge all of your electronics and personal devices. There are a few different ways of doing this, but the easiest and best option is to have a portable power station by your side. Not quite a generator, these portable power stations are much more handy and can provide you with plenty of extra power. 

Here we will explain the benefits of using a portable power station and compare the PAC505 and PAC1000.

RECHARGEABLE AREA LIGHTING

Blackfire's new rechargeable LED lighting is the perfect accessory to have quick rechargeable power and light when away from our portable power station. The Blackfire WLMC1 Rechargeable LED Flood Light harnesses 515 lumens. What really sets it apart is its ability to perform as a magnetic light or attach anywhere using its carabiner, or swivel stand functionality. In addition, this light functions like a rechargeable battery pack and can charge out to power other devices such as a cell phone or headlamp. Check out more about the new Blackfire LED Flood Light right here.